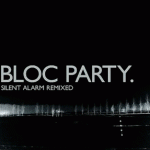 Beim Durchzappen auf Youtube stößt man ja mitunter auf geniale Tracks – als nun per Zufall das gute alte Banquet von Bloc Party mit unterkam musst ich glatt mal klicken – und siehe da – ein doch eingängiger Remix des Klassikers kam zum Vorschein. Eigentlich keine großartigen Edits zum Original, dafür untermalt mit netten Drums [sind Drums nett?] Auf jeden Fall Grund genug den Titel wiedermal zu picken – wie viel Jahre sind's her – 10 oder so – immer noch genialer Track. Hier das Video zum Phones Disco Edit und nochmal die Lyrics mit ins Feld geworfen.

Bloc Party – Banquet (Phones Disco Edit)
Ich weiß nicht mehr genau, ob das Original auch so schnell war, aber wie ich finde ein gelungener Remix mit leichtem Electro Einschlag. Like that. Erinnert mich irgendwie einen Lexy & K Paul Rmx. Besonders ab Minute 00:30 ist es der Hammer – geht nach vorn.
Hier noch die Lyrics zum Banquet Klassiker:
A heart of stone, a smoking gun
I can give you life, I can take it away
A heart of stone, a smoking gun
I'm working it out
Why'd you feel so underrated?
Why'd you feel so negated?
Turning away from the light
Becoming adult
Turning into myself
I wanted to bite not destroy
To feel her underneath
Turning into the light
She don't think straight
She's got such a dirty mind and it never ever stops
And you don't taste like her and you never ever will
And we don't read the papers, we don't read the news
Heaven's never enough, we will never be fooled
And if you feel a little left behind
We will wait for you on the other side
Cos I'm on fire
Cos you know I'm on fire when you come
Cos you know I'm on fire
Cos you know I'm on fire so stomp me out
Cos I'm on fire [x4]